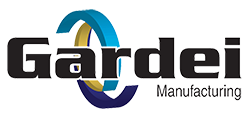 CUSTOM GRINDING WHEEL BLOTTERS, CUSHIONS, & LABELS
CUTTING EDGE QUALITY & SERVICE
The grinding wheel blotters made by Gardei Manufacturing, provide optimal performance through the use of computer-controlled engineering. We are the only supplier in the USA of custom grinding wheel blotters and grinding wheel labels, and we are known in the industry for offering the highest quality grinding wheel blotter production for a wide variety of applications.
Blotters are compressible washers that are placed between abrasive wheels and flanges to prevent the flanges from slipping and protect them from wear. They are also important for wheel safety and are required by the safety code ANSI B7.1.
Each blotter or label is made per your specific requirements, with or without print. All you need to do is send us your artwork or consult with our pre-press department in order to produce a customized grinding wheel blotter.
START YOUR PROJECT
Begin your grinding wheel blotter project with the help of Pioneer Printers, Inc.; call us today to ask us any questions or visit us in person to speak with one of our knowledgeable staff members.