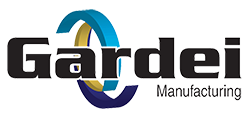 CASE STUDY 1
Several years ago, a company who was in a bind when their current supplier was no longer able to supply their product came to Gardei for help. In order to meet their needs, Gardei had to quickly produce a large variety of printed and non-printed items requiring a multitude of unusually shaped custom dies.
Gardei met this challenge and was not only able to produce all of their die cut products, but was able to do so with minimal interruption to their production schedule. As a result of our efforts, Gardei continues to have a relationship as a primary supplier to this company today.
CASE STUDY 2
A large manufacturer of grinding wheels had become dissatisfied with the length of time it was taking to get their baked-on labels from their overseas supplier. After contacting Gardei, they were thrilled to discover that not only could we produce the same product, but we could do so cost-effectively and with a much faster turnaround time than their current supplier.
After receiving their labels, this customer stated that they were not only completely satisfied with the quality of the product and turnaround time, but also with how helpful and pleasant the Gardei staff was to work with.